Interning in a Company is probably the best thing you can do while being in College. During my time in Thapar University I had no idea about how to move forward for getting an internship. Now that I am in the Corporate Industry, I can surely give you assured 5 step guide to successfully landing an Internship. If you follow these steps with full dedication, nobody can stop you from getting your dream Internship:
Step 1: Select your Profile – Depending upon your branch/Interest select the profile for your Internship. It can be Computer Programming, Electronics, Marketing, Mechanical etc.
Step 2: Build your Skills around that profile – For eg. If you want to intern as a programmer then select one coding language and start improving your coding skills. If you don't have basic skills in your particular domain then getting an internship in that specific domain gonna be bit tough for you. Check out courses from coursera, edX, and udemy. Don't focus on getting only certificate from such sites. Rather focus on actually learning something. Keep in mind, As an intern, the company won't expect much from you. All they want is a proof that the profile for which you are applying is actually what you want to get into. Here how to do that – see step 3!
Step 3: Build a Project –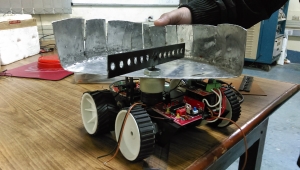 If you have required skills but don't have a proof to showcase your skills then having those skills is useless. This is the most important point. Having worked on project shows that you are ambitious and actually enjoy your domain area. The only reason I landed my internship was this website – Campus Kiosk which I build using Python. I had a proof of my technical skills. This also showed my eagerness to self-learn. Many of my friends knew multiple programming languages yet they were facing problems while getting an internship. Reason being – Lack of Proof to display their Skills. You can google 'Coding projects', 'Electronics Projects', etc. and select one as per your interest and skills. Check out this post to see what other students have built – Amazing Projects by Thapar University Students.
Step 4: Build your CV – It's time to put up your skills and Projects in your Resume. You can refer this post to learn to make your Resume – The art of Resume Making.
Step 5: Apply Online – The best website for applying to various Internships is www.internshala.com . Be consistent and keep applying. Don't worry if you get rejected. Keep in mind that they need you more than you need them.
I assure you that on following above steps you will surely land into internship of your choice.
Keep patience and be persistent!
All the Best!
Regards,
Raghav Chopra